Restaurant Paging System Replacement
Restaurant paging systems cost more than $1,000 new, and that includes only about 15 coaster pagers. If you need more buzzers, plan to pay at least $50 for each one. Want 10 more, so you can have 25 people waiting? That's another $500. You should also expect at least one or two of your restaurant's pagers to break or "walk off" each month.

This makes the up-front cost for your new restaurant paging system at least $1,500, plus another $50-$100 per month. What do you get for it?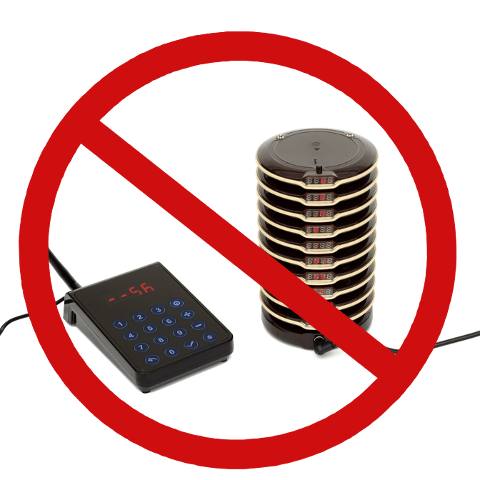 No more than 25 simultaneous waiting parties
Customers stuck holding bulky, dirty devices
Guests forced to wait nearby for fear of going out of range, which means crowds at your door that turn away new diners
Sure, you can hand out buzzers pretty quickly, but you still have to scribble down each party's name, size, and pager number on your notepad, which gets harder to read as your service gets busier. A hard-to-read waitlist is a hard-to-manage waitlist.
Why not try a digital restaurant pager app, instead? For about the same monthly price as replacing your lost or broken coaster pagers, you can get a fully customizable online waitlist management and paging system. TablesReady's restaurant paging system will help you efficiently handle your waitlist on your busiest nights, ensuring your guests are happy and you can maximize your table turns.
Here are some of the features you get with our waitlist app as compared to an old-fashioned restaurant paging system:
| | TablesReady | Pagers | Pen & Paper |
| --- | --- | --- | --- |
| Upfront hardware cost | $0 | $1500-$3000 | $0 |
| Monthly cost | $69.95 | $50-100/mo for lost or broken pagers | $0 |
| Wait time analytics | | | |
| Customizable notifications | | | |
| Multiple notifications types (confirmation, next-in-line, followup, etc.) | | | |
| 2-way messaging | | | |
| Guest self-signup  | | | |
| Public waitlist view | | | |
| Integrates with Square POS | | | |
| Unlimited Range | | | How loud can you shout? |
| Concurrent waiting parties | Unlimited | One per expensive pager | How big is your foyer? |
| Real-time sync across stations & devices | | | |
| Free trial | | | |
| | Try Now | | |